The major source of air pollution in Berlin, the capital of Germany is road traffic. Berlin City Council was searching for a method to detect NO2 and NO concentration along with PM 2.5, which are the most dangerous pollutants.
Measuring those fractions in the city area is expensive and requires space for placing measuring stations.
Berlin City Council started seeking an affordable solution that would allow them to use a large number of sensors to gather data about air quality from the whole city area. Such an approach would allow them to see how pollution spreads, and where the hot spots are.
The results:
Airly sensors were tested in the city of Berlin, from March until June 2020. The first stage was to check the accuracy of the sensors by comparing them to BLUME reference stations.
Deployment of:
1 sensor (SO2/CO) at MC 174 (Frankfurter Allee)
3 sensors (NO/NO2) at MC 171 (Brückenstraße)
1 solar panel powered NO/NO2 sensor at the ambient air sampling intake of the BLUME calibration laboratory
The Airly sensors presented highly accurate data, further validating Airly as the perfect partner for the project. Comparison measurements with measuring equipment of BLUME as a reference
Sensor calibration by Airly on 2020-03-14. Validation details here.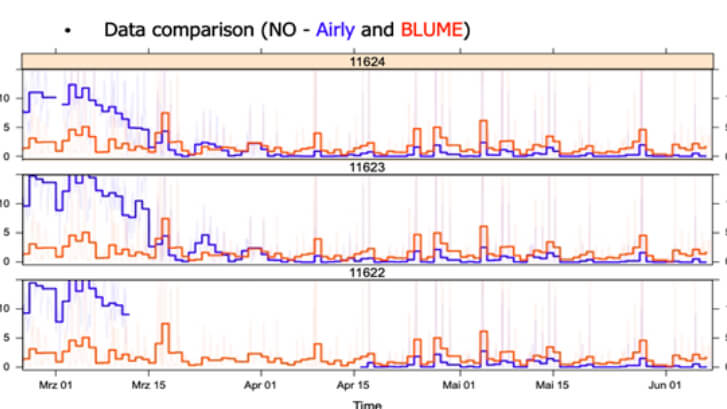 Further plans for development of the project:
Berlin City Council is now creating a hybrid network of reference stations and affordable Airly sensors. There will be over 90 sensors installed in the city center. Thanks to interpolation and an AI-based air quality forecast, information about air quality will be delivered to every citizen.