Improving Air Quality in the London Borough of Lambeth: A Case Study on Airly Air Quality Monitors
Introduction
Air pollution has become a pressing issue for the community of the London Borough of Lambeth, with detrimental effects on public health. To tackle this concern and raise awareness among residents, the Lambeth Council initiated a project to monitor air quality using cutting-edge technology. The council partnered with Airly, a leading provider of air quality monitoring solutions, to deploy 60 Airly air quality monitors across the borough. 
Lambeth has been advancing, thanks to the implementation of the Ultra Low Emission Zone and enhancements in cycling infrastructure, alongside the introduction of cleaner buses, taxis, and private vehicles. However, there is still a substantial amount of effort required. The usage of private vehicles in Lambeth has risen by 18% from 2013 to 2019. Notably, local particulate pollution continues to stem from construction and wood burning activities.
View the air quality vision for Lambeth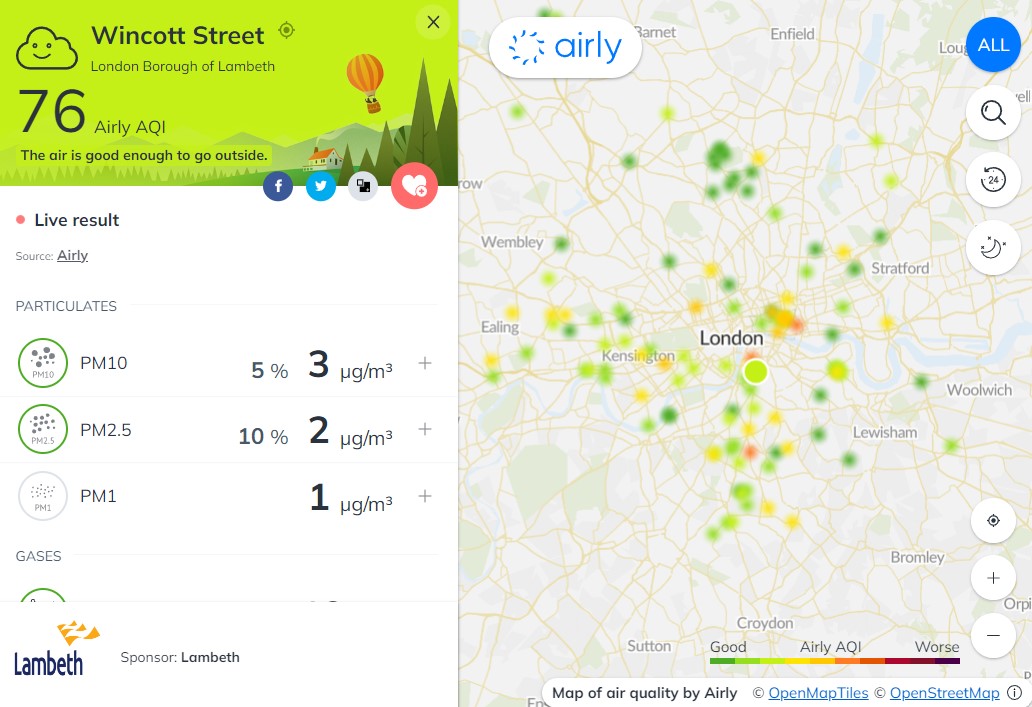 Objectives
The primary objective of the initiative was to increase awareness among Lambeth's residents about the causes of air pollution and the steps they can take to mitigate it. The deployment of Airly air quality monitors aimed to provide real-time measurements of various pollutants, such as particulate matter (PM1, PM2.5, PM10), nitrogen dioxide (NO2), and ozone (O3). By making this information accessible and easily understandable, the council sought to empower individuals and the community to make informed decisions regarding their health and take actions to reduce emissions and exposure.
Airly Air Quality Monitors: Features and Functionality

The Airly air quality monitors utilized in the Lambeth project were equipped with advanced sensors capable of measuring pollutant concentrations in real time. The monitors collected data on PM1, PM2.5, PM10, NO2, and O3 levels, providing a comprehensive understanding of the air quality in various locations across the borough. Each monitor was accompanied by a color LED diode and an information plate, facilitating the clear visualization and interpretation of pollutant concentrations for residents.

Deployment and Data Collection
The 60 Airly air quality monitors were strategically installed in Lambeth to ensure representative coverage across different areas of the borough. Locations were selected based on factors such as proximity to major roads, industrial areas, schools, and residential zones. The monitors were connected to a centralized data management system – Airly Data Platform, allowing for the seamless collection and analysis of air quality data.