Central Bedfordshire is a unitary authority area in the ceremonial county of Bedfordshire, England. It was created from the merger of two councils on 1 April 2009. With a budget of £500m the council provides over a hundred services to a quarter of a million people, and is responsible for schools, social services, rubbish collection, roads, planning, leisure centres, libraries, care homes and more.
Background:
The Central Bedfordshire Council did not have a platform that could inform citizens about air quality in real-time. Data about air quality was being delivered with a delay of 12 or even 24 hours. So the government decided to install 25 Airly gas sensors that collect and interpret data in real-time. This project has been delivered in cooperation with Westcotec Ltd, industry leader in Vehicle Activated Signs (VAS) and other related technologies.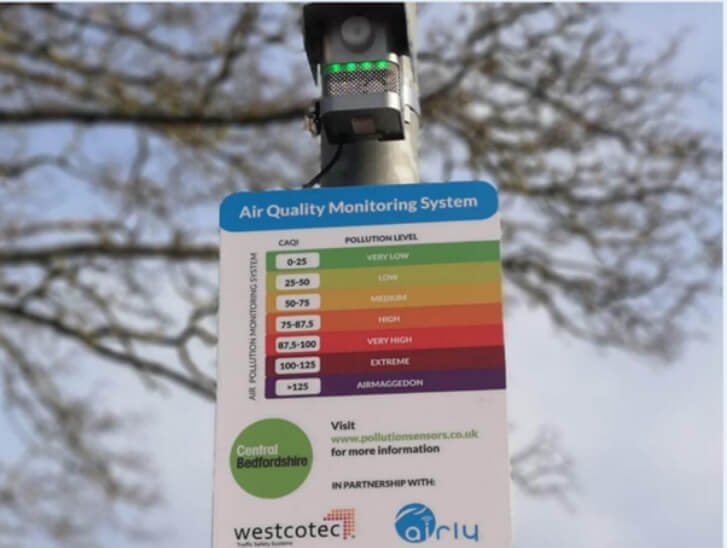 The results:
280,000 Bedfordshire residents gain access to real-time air quality data
Identifying the most polluted parts of the city
Bedfordshire Area has become an inspiration for other cities as an example of positive environmental action
We analysed locations of schools in Central Bedfordshire (218 buildings) with relation to the traffic congestion levels. 83 school buildings (40% of total no of schools) in Central Bedfordshire are located within 500 metres of roads with high and very high congestion.
Our air quality data analysis has shown that:
10% increase in road traffic led to a 7% increase in NO2 pollution and up to a 2% increase in PM 2.5 pollution, within close proximity of the traffic jam.
10% increase of the green areas in the immediate vicinity of a sensor was accompanied by a decrease in PM 2.5 concentration by 2.5% and in NO2 by up to 4%. 5.
The best way to combat this type of pollution is to create bicycle and pedestrian routes as well as to increase the area of green spaces.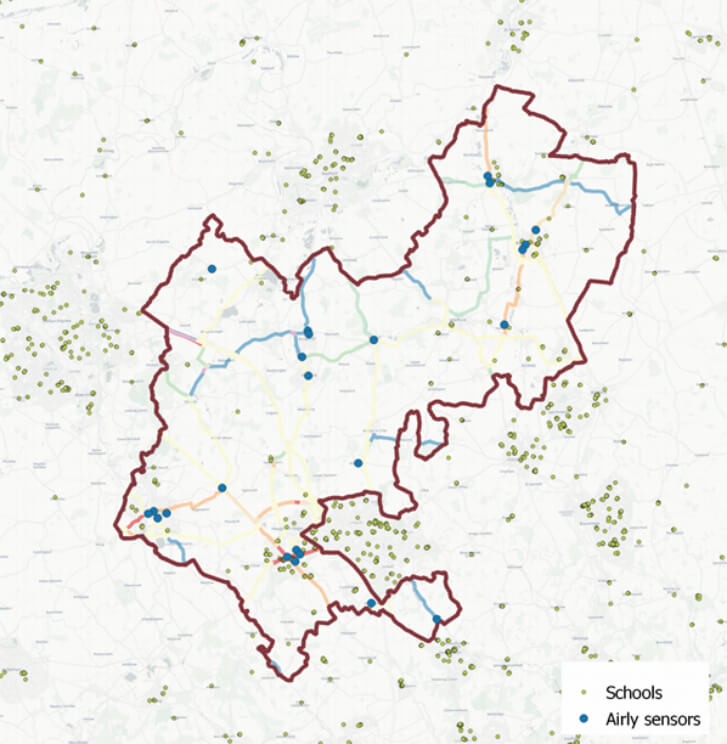 Thanks to the integration with other roadside technology, which allow the Central Bedfordshire council to take immediate action, council is able to reduce exposure to high levels of air pollution – for example through putting traffic diversions and reducing car congestion.
Further development of the project:
In order to minimise the impact of air pollution in Central Bedfordshire, the Council has planned initiatives which relate to data collected by Airly sensors such as:
Educational projects with local schools.
Monitoring pollution from buses and traffic diversions using vehicle-activated signs when air quality levels are required.
Expansion of the air quality monitoring network
Link to view detailed presentation: LINK